Sport Taekwondo
KAT offers Sport Taekwondo training for all interested students. KAT has long been at the forefront of Olympic Sport Taekwondo and has many state, national, and international champions. Sport Taekwondo training is valuable because it teaches many skills that are necessary in self defense. These skills include physical fitness, timing, a sense of distance, the ability to analyze an opponent and the abilty to be struck without losing control of the situation. Serious athletes will want to join the KAT Competition Team, where they will be challenged to reach their full potential.
We will also mix Olympic Style Sparring with grappling, with multiple opponents, with obsticles, with teams, or with other objectives, such as protecting a person or object. This will help us use sparring to its full potential of making us better martial artists. Beginners and Little Tigers do not do contact sparring, however we will begin to make them ready so that when they are old or advanced enough, they will know what to do.
We also have a set of 4 Electronic Body Protectors, top of the line technology that gives us an edge in sparring training.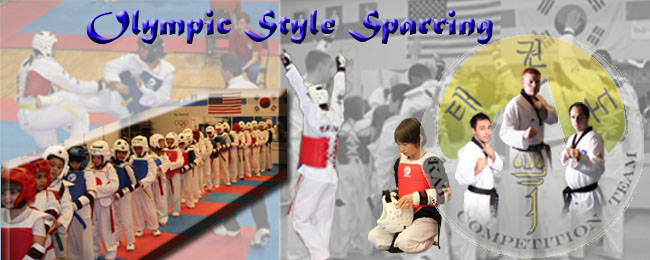 KAT Sparring Training